The brown recluse or fiddle back spider is not deadly, but its bites can most definitely send you to a doctor. Usually, you will not know that you have been bitten until a few hours later because their bite is somewhat painless, at least at first.  After that the numbness has worn off you will have to deal with mild fever and be a little sick at your stomach.
As I said before, their bite is painless at first but it will not be long before you turn your attention to the actual bite. A short time after the bite there may appear an ulcer where the spider has bitten you.  It will just keep getting bigger and bigger until you give in and make a trip to the doctors office.
Please take note that these spiders are
only
called recluses because of where they tend to dwell and nest which is usually under couches, beds, chairs and even in clothing that has not been picked up in a while.  They tend to nest in groups so where you find one you may end up finding dozens nearby. Like their cousin the Brazilian wanderer they do not make webs, and when they get hungry roam for food which happens to include your legs if they see it as they are anything
but
reclusive when they are hungry.
I remember one of these things running at full speed underneath my door one time and going a couple feet and then stopping dead in its tracks when it realized I was a few feet away.  After stopping it changed its direction toward my shoes and began to slowly creep toward them.  I of course thought it strange that it would actually try and creep up on me so I grabbed a nice little CD case which I used to crush the life out of the thing once it was within range.
This is not the first time I have had this happen though. When I was younger one of these things actually made it all the way up my leg to my knee and bit me. I could feel it crawling back down my leg but did not realize that it had bitten me until it was too late.
What It Looks Like?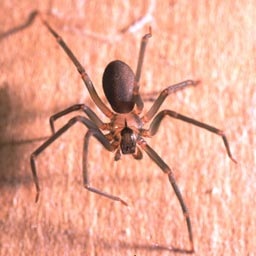 Shortly after I snapped this picture it went pretty viral and is now online in multiple places as it was a good closeup of one. I of course have retained the full original photo and am now going to show you why it is commonly called
the fiddle back
. Please look at the above picture very carefully and you will notice that there is something unique about this spider. They will appear to have a small fiddle or violin embedded into them between their fangs. Its like someone miniaturized a violin and somehow placed it on the inside of it!! Lets take a look at a closeup of the original photo.
Where is it?
They are found in the south central part of the United States under and in between the seems of couches, beds, chairs and clothing.